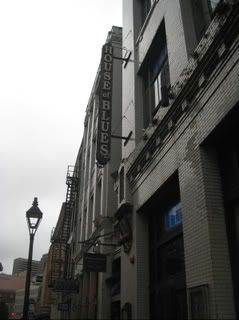 Friday October 3, I finally took a trip downtown! I've been to the French Quarter plenty of times as a tourist, but it took two months of living in New Orleans for me to go.
I went to the House of Blues where I met up with a lot of people from my church; we were all there to support someone from our church named
Chase McCloud
. Before that night I hadn't heard any of his music, and to be honest the performance before him made me skeptical. The first band to play was a group named Horizon. Horizon is comprised of three angsty teen boys who look like every other high school boy in tight jeans and a t-shirt. And the kids at the House of Blues were so annoying. I don't know how many times a little 13 year-old trampled on me. They all oozed with immaturity. They reminded me of how immature I was at that age, and it made me embarrassed for 13 year-old me. I was reminded of how my patience for teens gets smaller and smaller as I become older in age.
Chase McCloud is not a teenager and thankfully his music was angst-free. I was truly surprised with how much I enjoyed his music. I even bought a CD.
After HOB a group of us went to Crescent City Brewhouse for food.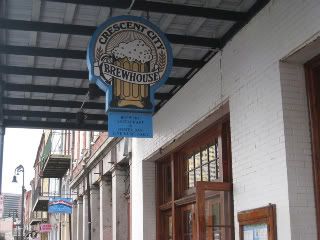 I shared the buffalo wings with a friend, the wings were so good! They were not to spicy but had a slight kick, and were glazed with something involving nuts which added a slight sweetness. The appetizer only came with 6 wings, and sharing meant I only had three which in my opinion is not enough considering there deliciousness. After that I was still hungry so I got the vanilla ice cream dessert with praline pecan topping—SO GOOD! I'm discovering that I like anything with praline pecans and for me vanilla ice cream is one of my favorites, so combining the two is destined to work.
Some people I was with ordered the baked brie. I had some and it was pretty good. Brie is my current favorite when it comes to cheese, and I have not had any since I was back in Berkeley at Edith's house. I went to Robert Fresh Market the other day and the cheese selection was big compared to the supermarkets I normally go to, but the brie was all packaged and fake looking. My stomach light up when I saw the cheese section and sank when I realized I would not be finding decent brie there. All that is to say that when we were at Crescent City I was delighted by the brie and the apple topping that came with it. My brie desire has been temporarily appeased.
The restaurant is kind of on the pricey side. Though the appetizers are affordable (the wings are $7.95) they don't give you the satisfaction of a meal. Buying a couple appetizers and sharing would make it affordable and from what I sampled the appetizers are pretty good. I am told you can find coupons around the city for buy one get one free entrees, when you present an out of state license/ID.